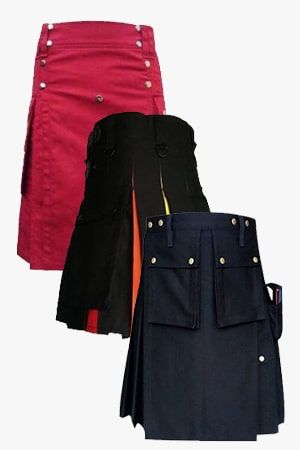 Buy Women Utility kilts perfect for ladies
Buy Women Utility Kilt
Women's Utility Kilts are the upgraded version of a basic utility kilt. These kilts are cool, trendy, and more comfortable to wear. Ladies utility kilts can be worn at formal or informal events like weddings or highland games. Utility kilts for women are made of 100% cotton material and drill jeans fabric. Pockets on both sides give extra space, and pockets' flaps help secure your essentials. The front of these kilts is plain as the normal kilts, and the rear is pleated for a traditional look. Buttons are given on the waistline to fasten the kilt. Loops on the waistline help to hold the belt.
Best Ladies Utility Kilt
At Utilitykilt you will find the best quality Ladies utility kilt with premium fabric. Our experts make the perfect kilt for you to wear anywhere. Please select the best quality kilt and order it from our online store. We offer women utility kilts at a low price. Along with Women's utility kilts, we also made women's tartan kilts, women's hybrid kilts, women's denim kilts . You can choose any kilt, and we will make your desired kilt. We also have a customization option to select the colour you want from our colour collection. Select the perfect size, colour & customized hardware for the kilt you buy from us. That would help to get a more stylish kilt from our online store.

Our faq would help you to find answers to your general queries with basic information. For other information related to the purchase process, use our chat option. You can also email the sales department with sales email sales@utilitykilt.co.uk. The sales representative will contact you to solve your problems related to the purchase process. Customer satisfaction is our priority.