Women Utility Kilt for Sale in UK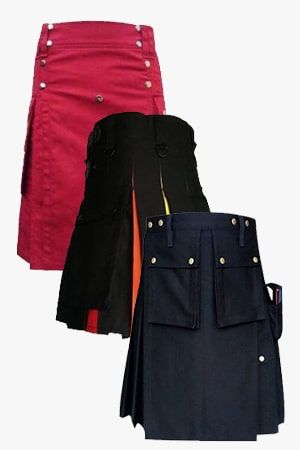 Women Utility Kilt for Sale in UK- is a cool, trendy, and more comfortable alternative to trousers with traditional construction but stylish contemporary characteristics, as the name implies. For generations, the kilt has been an iconic symbol of Scottish culture; presently, the kilt in its 'utility' version has become a global fashion statement.
Utility kilts, also known as work kilts, are composed of heavy-duty cotton and are built to last. These kilts come in a variety of colors and tartans, plus they have a lot of pockets, so they're really functional.
Women Utility Kilt for Sale in UK
Cotton, denim, and other long-lasting yet repellant textiles are commonly used in utility kilts. The major goal of these kilts is to survive rigorous and rugged use, particularly in harsh field jobs or at home or office work.
Utility kilts are stylish and practical outfits. It gives you a stylish look and a modern fashion appearance. Utility kilts are a blend of tradition and modern style. Large pockets are available for carrying your essentials.