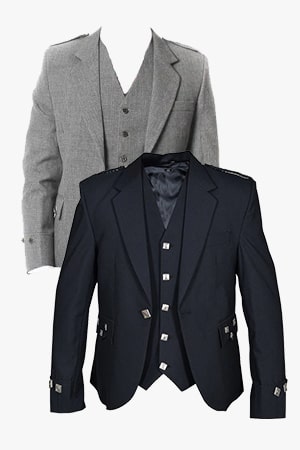 Argyll Kilt Jackets - Modern Argyle Jacket And Waistcoat
Argyle Kilt Jackets
Argyle Jacket is a versatile highland jacket worn at formal and informal events.Argyll jackets are designed shorter than ordinary jackets to make the kilt visible.Argyll jackets come with flapped pockets that make it safer to hold your belongings. These pockets can hold small daily items like keys and other things. Argyll Kilt Jacket has another pocket on the left top to keep your handkerchief, increasing the Jacket's decency. Also, the argyle kilt jacket has epaulettes at the shoulder, which decorate the Jacket's upper part. The argyle jacket is worn with a five-button waistcoat. Argyll jacket and waistcoat have gauntlet cuffs and silver buttons for decoration.
Argyll Kilt Jackets and Waistcoats
We Made Argyle kilt jackets durable and long-lasting. You will find the best argyll jackets and waistcoats from our extensive collection, and also we are offering a customization option to our valuable customers. Check our Kilt Jacket section to get more variations for your upcoming events. We have premium quality Modern kilt jackets at a low price. Multiple colours are available in the Argyll Kilt Jacket . The primary colours we focus on are Black, Blue, and Grey. Each has its appearance and look that makes it attractive. That makes it a perfect choice for you to wear. You can wear a Jacobite Ghillie kilt shirt with these jackets for a traditional appearance. Other then Argyll Kilt Jackets, we also have Prince Charlie Kilt Jacket
For those who have an issue purchasing from our online store, we have a chat option for your concerns, or you can email us at support@utilitykilt.co.uk. We are there to assist you in the purchase process. For common queries, we have a faq page. Please visit that page for the general questions the people ask about the issues they have faced. Order your kilt jacket now to get the best prices for your purchase.