Men's Utility Kilt - Work Utility Kilts at Cheap Price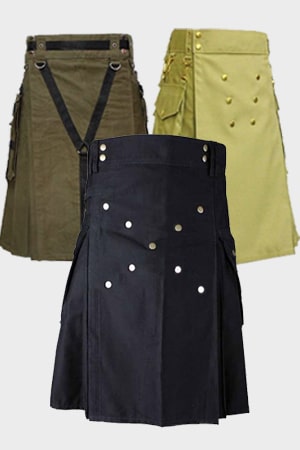 Utility kilts or work kilts are the latest versions of old-fashioned kilts. With each passing year, demand for this type of kilts increases. Men's utility kilts have a full pleated design on the backside and featured large flapped pockets on both sides. Our utility kilts collection is made with the finest materials that ensure the complete satisfaction of our valuable customers. We have a wide selection of custom-made premium quality utility kilts.
Utility Kilts
Utility Kilts are made of pure cotton with special pockets, pleats, straps, and studs. They are good and easy to wear for men who have tough work in field duties and also for those who are working in offices but these kilts are designed to be more comfortable to wear every day because they are completely made of cotton yarn.
These can easily be worn all day as they are long-lasting and versatile. These have pockets and straps. Utility Kilt has fantastic bargains on high-quality kilts at reasonable costs. Those who want to look fashionable need this type of durable clothing. We offer total customization to meet your requirements. These Men's Utility Kilts for Sale have pockets and are made of soft cotton fabric so that they can be worn comfortably all day.
Utility Kilt is offering the latest trendy kilts for men who work daily, and also at reasonable prices. We also deliver your favorite customized kits to your doorstep in less than 10 days.

Custom Utility Kilts are available:
We make kilts according to your provided length.

We have different varieties of kilts for you.

The number of pockets can also be changed as per your needs

Your choice of colors.

To make kilt more graceful we use rust-free rivets and hooks

You have also a choice to increase pleats.

Your choice of fabric matters if you want denim fabric we provide you 100% denim kilt.
We will provide you highest quality kilts that are tailored by highly professional and experienced tailors, We guarantee that if you purchase kilts from us you will never be disappointed. We manufacture the latest World's finest and most durable kilts with high-quality fabrics.

We have easily affordable utility kilts for you, all in your budget range.