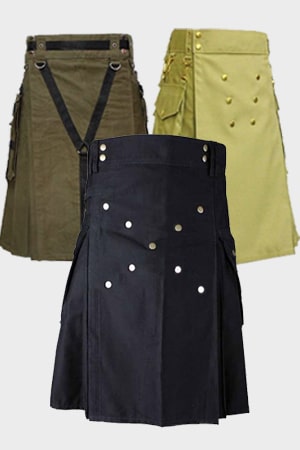 Men's Utility Kilt - Modern Kilts - Cargo Kilts
Men's utility kilts are the latest versions of old-fashioned kilts. With each passing year, demand for this type of modern kilts increases. Men's Utility kilts have a completely pleated design on the backside. These kilts featured large flapped pockets on both sides. Our Modern kilt has the finest materials to ensure the satisfaction of our customers. Cargo kilts are specific kilts with utility features and also in trends.
Men's Utility Kilts Meet the Modern Trends
Men's Utility Kilts are made of pure cotton with a plain apron & pleated rear. These modern kilts are more useful & productive because of pockets on both sides. It's comfortable to wear due to its fabric quality & tailoring method. Mostly they have buttoned fastening. Kilts have the same fabric straps with buckles to adjust the waist. Loops on the waistline of kilts would help to hold your belt & prevent them from falling.
Cargo Kilts for Cheap
Cargo Kilts are Perfect for office work & field workers who want to wear them for long or working hours. You don't feel a burden while wearing them in your daily activities. They have a long lifespan if made of quality material. While buying from our online store, you don't have to worry about the kilt quality because that's our priority.
Why Buy Men's Utility Kilts From Utilitykilt
We provide Men's Utility Kilts with the best quality. Professional tailors make these kilts. We also have Women's Utility Kilts & Kid's Utility Kilt. Want tartan kilt with utility features? We have a separate category of tartan utility kilts. You will always be satisfied if you purchase kilts for men from us. Get kilts for cheap from our online store.
We have affordable utility kilts for you, all in your budget range. Feel free to contact us at our email address support@utilitykilt.co.uk. We would be happy to assist you.