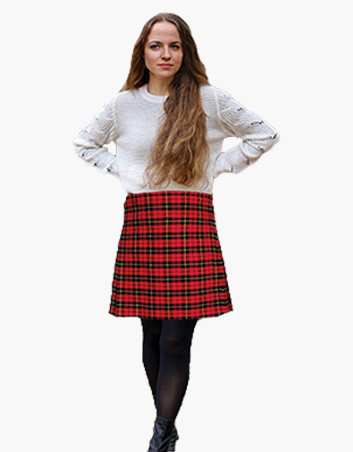 Kilt for Women - Buy Ladies Kilt
Kilts for Women
Kilts for women are equally popular as the men. Women's kilts are different from men's. Ladies' kilts are fastened on the left, while men's have fastened straps or buttons on the right. Female kilts come in normal kilt lengths and short lengths as well. It depends on the personal choice to select the design that suits. Short-length kilts have a different shape than normal kilts. The front is the upper part of the kilt plain, while the rear is pleated as the normal kilt.
Best Ladies Kilts for Sale
Kilts for women are available in plain or tartan colours. Most clan tartans are included in our collection. You have the option to choose your desired clan tartan kilt. To make kilts more functional. Women's kilts are also available in pockets. If you're looking for Ladies' kilts in normal length or short kilts with trendy designs. UtilityKilt is the appropriate shop for you to purchase a kilt. We have ladies' kilts for sale in both lengths. It's the perfect economical Scottish apparel and accessory manufacturer. It specializes in quality kilts for women. We have a large selection of kilts in different materials & shapes, including Women's Tartan Kilts and Women's Utility Kilts.
If you still need to find your desired kilt. Either email us at support@utilitykilt.co.uk or use our chat option. We will give you your desired kilt in the perfect size and shape. We offer customized kilts at low or budget prices. But make sure you measure the size perfectly. For your ease, we have a kilt measuring guide to help get the measurement. For common queries related to kilts, visit our Faq page, which would help to find general answers.