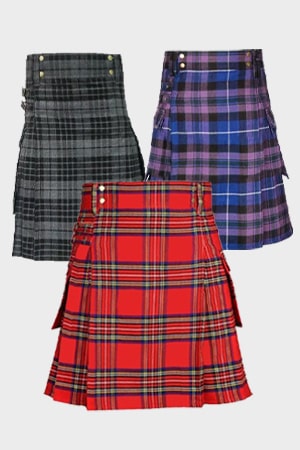 Tartan Utility Kilts
Tartan Utility kilts
Tartan Utility kilts are an upgraded form of the typical traditional kilt. These are more modern in design than the basic kilts. Tartan utility kilts are made of tartan but have utility features. Pockets on both sides make it more useful and help keep your essentials. Flaps on pockets will help to secure your things. Buttons on the waistline help to fasten the kilt, while tartan straps help to adjust the waist of the kilt. Loops on the waistline help to hold the belt. That's an extra option to make the kilt more tight fit. The pattern on the kilt fabric represents the clan of Scottish Highlanders. They are perfect for both formal and informal events. It can be worn at highland games or wedding events.
We are one of the best to make kilts for our users in the UK and Worldwide. We design kilts for the buyer at a low price and premium quality. We have a variety of tartan utility kilts. At Utilitykilt, we make kilts with almost every tartan, pick your clan tartan from the customization option, order your kilt today, and we will deliver it to your doorstep. Our expert team will make a masterpiece for you to wear at any event. Along with tartan utility kilts, we also offer kilts of different designs like men's utility kilts, tactical kilts, leather kilts. Please choose your favourite kilt from our online store.
If you face any issues finding your desired kilt, email us at support@utilitykilt.co.uk or use our chat option for assistance. One of the representatives of our store will contact you to sort out your issue. For basic information about the purchase process, we have the faq page. Visit the page to find the solution to general queries.