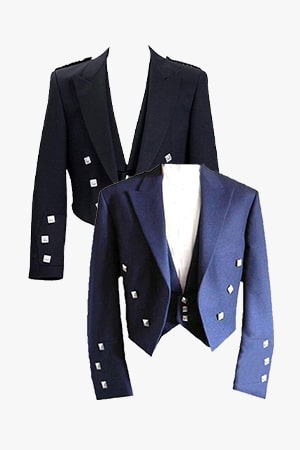 Prince Charlie kilt jacket and waistcoat
Prince Charlie jacket
Prince Charlie jacket is an iconic jacket perfect for formal events. It can be worn with a shirt and waistcoat. The Prince Charlie kilt jacket has a stud at the shoulder for a stylish look. The Prince Charles Jacket has gauntlet cuffs and silver buttons. Three-button design on the cuffs gives an appealing look. Bonnie Prince Charlie jacket and vest is a single-breasted jacket with a tail on the back. Prince Charlie Jackets and Waistcoats have three-button patterns on the jacket and waistcoat. The Prince Charlie Jacket has pockets on both sides and a single pocket on the front. Side Pockets have flaps, and the front pocket is left open for handkerchiefs.
Prince Charles Jacket
Prince Charles jackets are tailored with the finest wool under the supervision of experts. The front and tail side of Prince Charles Kilt Jackets are decorated with silver buttons. It imparts a splendid look to this jacket. We have a collection of Prince Charlie Jackets and Waistcoats with accessories. That would help to complete your kilt outfit. We at Utilitykilt offer Prince Charlie Kilt Jackets and waistcoats in size customization. You can pick your favourite kilt jacket in black, blue and grey. Other than Prince Charlie Kilt Jacket, we also have the option to choose Argyll Kilt Jacket. For a traditional look, buy a Jacobite Ghillie kilt shirt and a jacket from our store for your upcoming events.
For any issues in the purchase process, contact us with a chat option or email at support@utilitykilt.co.uk. We are always there to assist you in the buying process and help you in all matters. We have a Faq page for common queries, which includes the common queries of people who ask routine queries.