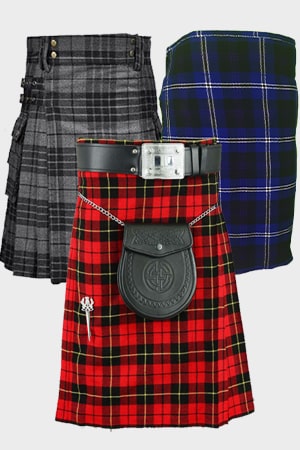 Tartan Kilts - Buy Irish and Scottish Tartan Kilts From Tartan Shop
Tartan Kilt - 5 Yard and 8 Yard Kilt
Tartan kilts originated in Scotland and are considered the national symbol of Scottish heritage. Tartan Kilts are known as traditional kilts but are still used frequently in modern clothing. For your ease, we offer a huge selection of Scottish Tartan kilts. Not only that, we have a collection of Irish kilts as well. We can also produce any tartan you want. Our modern tartan kilts come with the option of 5 Yard Kilt and 8-yard kilts. Every plaid kilt is handcrafted and fashioned particularly for you by crafters using only the finest materials, ensuring it will last a lifetime. Our focus is on personalized care, with first-class individual treatment assured whether you visit us in person or order through our online mail-order service.
Buy Traditional Kilts From Our Tartan Shop
Traditional kilts are made of acrylic wool with traditional pleats on the rear and keeping the front plain. One side is unstitched to give a classic look. To fasten the tartan kilts, leather straps with buckles help adjust the waist to 2 inches. To buy a tartan kilt, you need to know the right size and tartan of your clan. Measure your size with accuracy and order your desired clan tartan kilt. Our expert tailor will take care of the rest. So order your tartan kilt today for our online store.
Best Irish Kilt
The best Irish Kilts you can buy is available from us. So, whether you want to buy a whole highland gear or start with a kilt and work your way up, UtilityKilt offers something for everyone's budget and taste. Because you only buy a kilt once in a lifetime, it's worth it to get it from a respected tartan shop with all of the expert services you need, including aftercare support if needed.
If you want kilts in a stylish design, we offer men's utility kilts, tartan utility kilt, hybrid kilts, leather kilts, etc. To give your kilt a traditional look, you can try the kilt accessories or purchase kilt outfits from our online store for upcoming events
We had a wide range of tartans available in stock. If you do not find your desired tartan, fill out the contact page form or chat with us. The email address for further queries is support@utilitykilt.co.uk