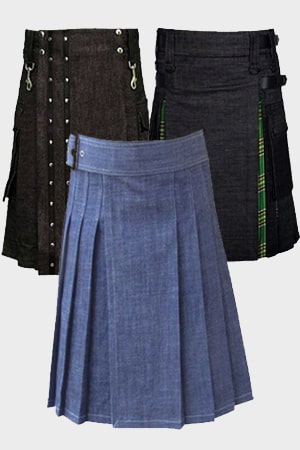 Denim Kilts - Men's Denim Kilts
Denim Kilt is made of Jeans Fabric. Men's denim kilts are popular due to their fashion and are similar to the utility category. It's a perfect kilt to wear on formal and informal occasions. Keeping in check the requirements of modern men, we have made our denim kilt with large pockets and hooks. These kilts are more durable and long-lasting. The front of Jean's kilt is plain, while the rear is pleated, which gives a classic look. They have button and buckle fastening. Belt loops help to hold the belt at the waist. D-rings are attached with belt loops that can easily hold the key chains and other small items. Men's denim kilts come in multi-color variations.
Best Mens Denim Kilts
We at Utilitykilt offer Denim kilts in premium quality material. Detachable pockets make it more usable. These pockets can be removed as per requirements. Studs and chains on our denim kilts collections make it a more attractive choice to wear at different events. Men's Denim kilts are specially designed for kilt lovers. Find your best denim kilts from Utilitykilt. We deliver the best kilts in the UK and Worldwide.
Buy Jeans Kilts
Jeans kilts are stylish in design and have modern fashioned fabric. These kilts are mostly used in festivals and other events like that. Along With Jeans kilts, we also have a variety of other kilts for men, like utility kilts, hybrid kilts, leather kilts, and tartan kilts. We deliver kilts in custom sizes and shapes. So book your order today, and our expert tailors will make it for you. We care about our valuable customers.
For more assistance with our purchase process, move to our Faq page. If you still have an issue, use our chat option or email us at support@utilitykilt.co.uk. We will help you there in the buying process. Our dedicated team member will guide you through the process and any further issues.