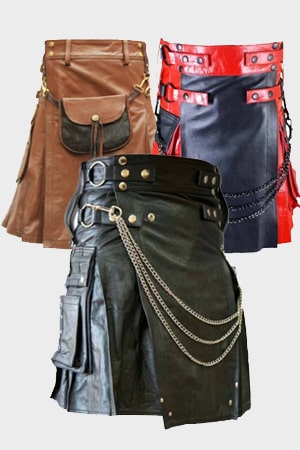 Buy Mens Leather Kilts and Leather Skirts
Best Mens Leather Kilts
Leather kilt is perfect for those who want comfortable stuff with a modern touch. Leather kilt mens can be worn at any formal or informal event. As kilts are updated, they are made of increasingly trendy clothes, including leather. Men's Leather kilts are famous for several reasons, as they are warm and fashion-forward.
Buy Men's Leather Skirts
As time changed, new styles of fabrics started to be utilized for kilts. The professional tailors created Men's Leather Kilts. These Kilts are purely made of material leather. Authentic mens leather skirt is yielded from the animal. Usually, Cow Leather is used. Nowadays, these kilts arrive in a combination of different colours. Black and brown are more conventional, but you can also discover kilts in blue, red, green, and other shades. We have leather kilts in a two-tone colour pattern that makes them perfect for any event.
Our leather kilts are made with premium quality leather that makes them torn-resistant. We have many men's leather kilts, such as brown, black, red and Blue leather kilts. We also have accessories stock to complete attire. Like the tartan kilt, the front side is plain, and the back has a pleated design. To make this garment more stylish, chains, studs, and straps are attached to the kilt.
If you are not a leather kilts fan, we also have other options to check from our online store. Our men's kilt variations include men's utility kilts, tartan kilts, and tactical kilts. So order your desired kilts, and we will make them for you.
For those who want their desired leather kilt, use our chat option or email us at support@utilitykilt.co.uk. One of our sales representatives will contact you and help to sort out your issue.