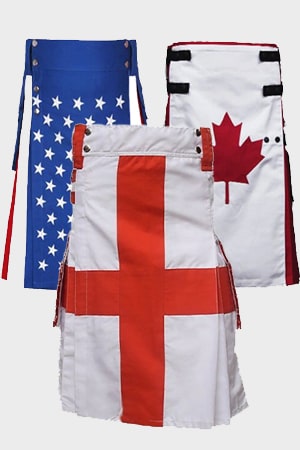 Flag Kilts - Buy Patriotic Kilts in Best Quality
Buy Flag Kilts
Flag kilts are designed especially for patriotic people who love their country and want to show love in their dresses. These kilts are more symbolic than the other kilts. Patriotic kilts are perfect for national days like parade days or other national events. But they are more than just specific to national circumstances and can be worn at other events. These kilts are made with 100% cotton material and in flag patterns. They give a feeling of pride and honour to the wearer. Most are in a modish design with utility features that provide comfort. The flag kilthas pockets, and rust-free hardware, including studs, rings, etc., is also attached. These kilts have a plain front apron & pleats at the rear.
Best Patriotic Kilts
We have various Patriotic kilts for different countries if you want a flag kilt for upcoming events. If you have not found a kilt of your country's flag on our site, use the chat option or email us at support@utilitykilt.co.uk. We will make a kilt for you in the desired flag pattern. Our flag kilts are made in a utility style for productivity and a stylish look. Pockets will give extra space and a modish look. To get a perfectly sized kilt for yourself, use our customization option. Select the perfect fit size, and we will make it for you. For your ease, we have a kilt measurement guide page to avoid any sizing issues. Some of our most demanding patriotic kilts are the American flag kilts, Scottish flag kilts, and England flag kilts. Other than Patriotic kilts, you can purchase other modern & traditional kilts like men's utility kilts, hybrid kilts, and tartan kilts. All these kilts are available at low prices premium quality. So make your decision today.