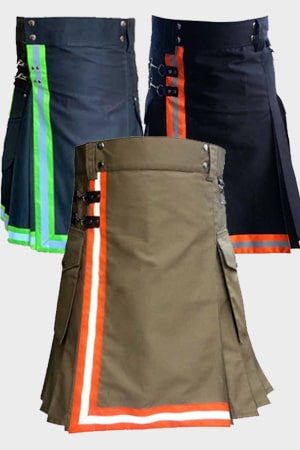 Men's Firefighter Kilt - Fireman Kilt
Buy Firefighter Kilts
Firefighter kilts are the latest kilt category, specifically designed to give honour to firefighters. These are made with heavy-duty materials that ensure the durability of the kilt and come with reflective tapes on the front apron to make the kilt catchy. Our Fireman kilt has large pockets, which are exactly according to the needs of modern men. The kilt has a pleated design at the rear and comes with adjustable straps mostly. We have different styles and designs of firefighter kilts
Best Fireman Kilt
These Kilts have a special pattern design that can be used in any honorary firefighter event. Firefighter Kilts come with a lime, orange, and silver lining, as silver increases vision tape to remain safe in any condition. A lopsided front apron with reflective tape is used in fireman kilts. This kilt is more spectacular than other conventional kilts due to the quality of the highly noticeable reflector, which is yellow and green. It remains visible in the dark, and you also look handsome in this kilt.
It is a type of utility kilt made of 100% pure cotton and is used with drill jeans fabric to make this kilt. Mostly have pockets on both sides and buttons to fasten. Some have multiple pockets on one side of the kilt, while the other side is left plain. That makes these kilts unique in design. They are decorated with reflectors, studs, rivets, and clips. Their size can be made according to your order
To get more options, select other kilts like denim kilts, leather kilts, hybrid kilts. Keep in mind to measure the size perfectly. Get further information about our purchase process from chat or use our email support@utilitykilt.co.uk to contact our sales team. Through email or chat one of our representatives will contact you to resolve your issues.