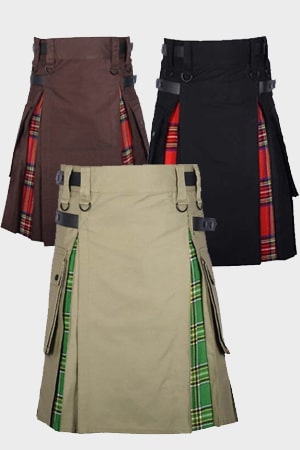 Hybrid Kilt - Rainbow Kilt
Hybrid kilt is a combination of classic and stylish design. Rainbow Kilts are the best choice for those who want to adore classic dresses and have difficulty selecting styles and designs. Hybrid Utility Kilts are made with drill jeans, and tartan is used inside the pleats to give a traditional touch. Perfect for formal occasions such as weddings and graduation ceremonies. Also, it can be worn as casual wear.
Best Quality Hybrid Kilts
Hybrid Kilts are made in two-tone patterns. It's called hybrid due to its dual fabric style. The apron has a single colour, while the pleats made of tartan are multicolour. It is a fantastic option for those who feel bored with conventional kilts. These kilts can be fastened with buttons and have loops to hold the belt. Pockets on the side give extra space to store essential items.
Buy Rainbow Kilts
Rainbow kilts are the main focus in the hybrid category. They are designed specially in multicolour inner pleats. Rainbow kilts are the same as hybrids; the only difference is the colour of the inner pleats. Pockets on the side give extra space to hold the essential items.
We have a variety of Hybrid kilts at our online store. Check our hybrid category to select your favourite kilt. Our collection is made according to the user's requirements. Book your custom order today, and we will deliver the best quality material. We at Utilitykilt also make other kilts for men; then hybrid kilts are utility kilts, tartan kilts, leather kilts, and more. If there is any issue in purchasing the kilts from our online store, then use our chat option. There we will assist you in buying the kilt. Or use an email address to contact us. For contact, our email address is support@utilitykilt.co.uk