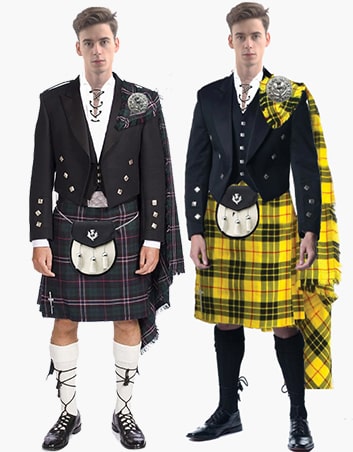 PRINCE CHARLES KILT OUTFIT - BONNIE PRINCE CHARLIE OUTFIT
Prince Charlie Kilt Outfit
Prince Charlie kilt outfit is traditional clothing. Bonnie Prince Charlie Outfit are worn at formal events. Prince Charles Kilt Outfit are best for events like weddings and graduation ceremonies. It has a prince charlie jacket with a three-button waistcoat. This Outfit jacket is shorter to make the kilt visible and has a tail on the backside. Also, the jacket is decorated with silver square buttons on the front side, the tail, and the sleeves. The jacket and waistcoat come in a pair to give an elegant look to the whole Outfit. A Ghillie shirt with a Kilt Jacket makes it more attractive. You can choose the tartan kilt of your desired pattern for your Outfit. Kilts are made in traditional design with a plain front apron & rear pleated design. One side of the kilt is left unstitched for a traditional look. Sporran, fly plaid, shoes, flashes, and others are added to complete the Outfit.
Buy Prince Charles Kilt Outfit
We at Utilitykilt offer Prince Charlie Kilts outfits in quality material. We have kilt accessories such as sporran, fly plaid, kilt buckle, kilt pin, etc., to complete your Outfit. We made Outfits in perfect sizing and shape. Wear our kilts in any of your upcoming events with confidence. This kilt Outfit would help to boost your personality. You can choose our Argyll kilt outfit if you want a modish one.
For buying information from our site, use the chat option or email us at support@utilitykilt.co.uk. We will guide you with your queries. For general questions, visit the faq page. That would help you with general questions people ask about the buying process.