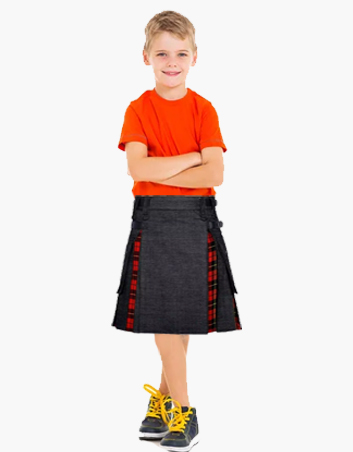 Kids Kilts - Child and Boys Kilts
Buy Kids Kilts
Kids Kilts, let your children be aware of their Scottish traditions and culture. Get boys kilt as the best attire for your children for Scottish events. Childs kilt is the same as normal kilts but smaller in size. Child Kilts come in both traditional and modern styles. They can be worn at formal and informal events. Smaller-sized kilts have no pockets option due to the lessor spacer on both sides. Most of these kilts come in drill jeans and acrylic wool. Kids kilts have both button and strap fastening options. Traditional baby kilts have mostly strap fastening. In comparison, modern kids kilts have button fastening options.
Best Quality Boys Kilts
We at UtilityKilt make children's kilts that are comfortable to wear. These boys kilts are made in traditional, modern unique styles. Order your custom children's kilts from Our store at a low price. We will make your kilt according to your requirements and needs. We have different kilt types available at our online store. These kilts include kids utility kilts, kids tartan kilts, Kids hybrid kilts, and others. That makes it a perfect choice to wear at any event. Our kilts are made of quality material that lasts for a long time. Our expert tailors will make your kilts with a cure so that they can last for a long time. Your kilts are stitched perfectly and according to the given size and shape, making them easy to wear.
If you have any issues, please buy from our online store. Use the chat option or send an email to support@utilitykilt.co.uk. One of our representatives will help you in the buying process. If you have any general queries visit our FAQ page. There we have answered the general queries asked by the people.